C27
---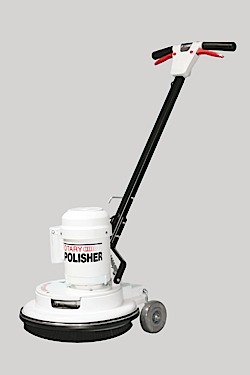 View Larger Image
Print this Page
GET A PRICE
Make:

Polivac

Power:

Mains 240volt/1100watt

Working Width/Speed:

400mm/192rpm

Scrub only, no water pick up. Supply water tank optional.
Description

Downloads
All-Australian designed and built scrubber.
Powerful 1.12 kw (1.5hp) 2pole motor.
Brush speed - 186rpm. 
40 cm (15.7") wide track.
15 metre yellow rubber, flexible safety lead
Height adjustable handle suits most operators.
Body - polypropylene and powder-coated, cast aluminium alloy 
Oil-filled, sealed "Polidrive" gearbox for exceptional reliability and  long life.
Quick realease system.
Optional weight set up to 24kg (52.8lbs)
Parts available all over Australia.
120 Distributors.
Warranty - 2 years on gearbox and motor.  1 year on parts.
NOTE: 110 volt motor also available.