ST2100
---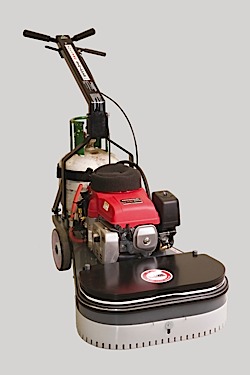 View Larger Image
Print this Page
GET A PRICE
Make:

Nilfiskalto

Power:

13Hp Honda LPG

Working Width/Speed:

530mm/350-700rpm

Hard brushes to remove sealers from terazzo etc.
Description

Technical Data

Downloads
Gas-powered Stripping Machine - ST2100

Australia's most versatile power stripper/scrubber.
51cm (20.1") pass width.
Removable weight system ideal for heavy-duty floor cutbacks; concrete floor scrubbing, etc.
All-Australian designed and built.
Honda 9.69kw (13hp) 4 stroke motor.
Push button start.
Up-to-the-wall stripping/scrubbing.
3 Quick Release Tynex abrasive brushes.
Pad speed: 350 - 700 rpm.
Battery - 12 volt, 20 amp hour, gel sealed.
Weight including weight set - 160kg.
Parts available all over Australia
120 Distributors.
Warranty - 1 year on motor and parts.